Logosol's range of Smart products are designed to make life easier when managing and preparing logs and firewood. With an emphasis of making these tasks easier and safer.
A sleek sawhorse
The Smart-Holder is a sawhorse that facilitates your work. The log is automatically secured when it has been slid in, and the design of the Smart-Holder makes it impossible for the wood to pinch the guide bar. By this, 80 percent of the most common accident with chainsaws, i.d. a piece of a log that moves or a guide bar that is pinched, are eliminated. The Smart-Holder is folded flat in a couple of seconds and takes up minimal space. When folded the dimensions are 1180 x 380 x 50 mm.
Heavy or long logs are less difficult with the Smart-Holder. The Smart-Holder reduces your need to lift heavy loads, like the full log weight. You lift just one end of the log and place in the Smart-Holder, then lift the other end and the Smart-Holder automatically clamps the log at the desired height, nicely balanced.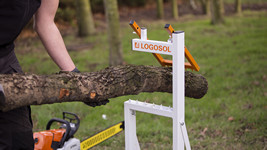 Smart wood splitting
The Smart-Splitter is an efficient axe that can be used by everyone in your family. It is designed with the focus on safety when you are splitting wood. The Smart-Splitter is a Swedish patented invention.
A different action, less strain on your body. For some people, this different action, using both arms can be less stressful on the shoulders and body.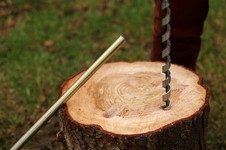 Splitting firewood and kindling with a focus on safety and comfort.
Fast, easy and safer holding of logs for chainsawing into firewood.