You can build a Sauno kiln from many insulated materials, including ply/insulation, fridge panels, and XPS (extruded polystyrene).
Here is a video by Axminster UK running through the XPS build process.
And for further instruction, you can read this build handbook, which includes build and operation instructions.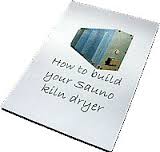 Download our Sauno Kiln Manual (5.3MB PDF)
For more information or to order a Suano kiln, click here.